Free EYE Camp and BME Design Day
February 27 @ 10:00 am

-

2:00 pm
The Department of Biomedical Engineering (BME) at BUET is excited to announce two amazing events taking – a Free Eye Camp and the Capstone Project Showcase of BME 300 & 350.
The Free Eye Camp will feature a team of experienced eye specialists and doctors who will be present to perform a comprehensive eye check-up and provide you with the necessary guidance and recommendations. This is a wonderful opportunity to ensure your eye health, so don't miss out! The event is supported by Zeiss and Bangladesh Eye Hospital, two leading names in the eye care industry.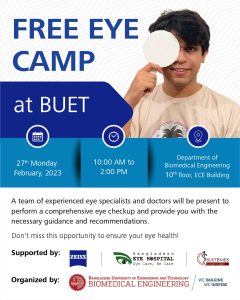 In addition, it's also hosting the Capstone Project Showcase of BME 300 & 350. This event is a platform for department's talented young engineers to showcase their innovative ideas and groundbreaking designs. Come witness the future of biomedical engineering and meet the brilliant minds behind these projects.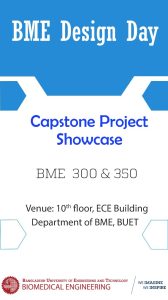 Both events will take place on Monday, February 27th, from 10:00 AM to 2:00 PM on the 10th floor of the ECE Building. So, mark your calendars and join us for a day filled with education, innovation, and inspiration!