PEEP-Alert: Developing a Monitor for Positive Pressure Respiration Support
February 15 @ 2:30 pm

-

4:00 pm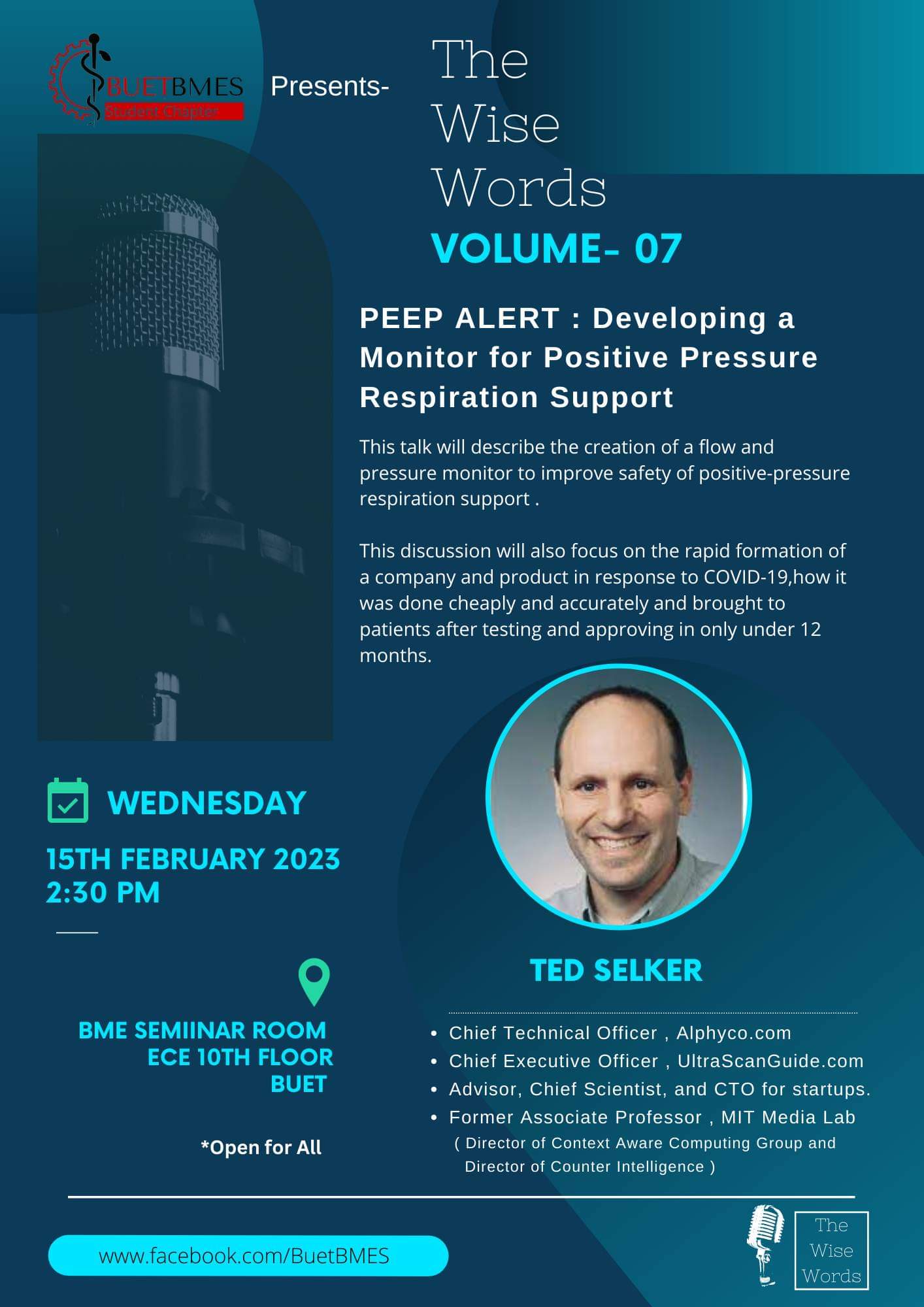 This talk describes the creation of a flow and pressure monitor to improve safety of positive-pressure respiration support. Reduced rates of intubation can be achieved with greater than 5 Positive End-Expiratory Pressure (PEEP). More than 30 PEEP will irreparably damage lungs. Helmet-based noninvasive ventilation has been shown to improve outcomes significantly over cannula, mask therapies, or even early ventilator application. When started early it can reduce the need for ventilators dramatically.

We identified monitoring helmet air-volume and pressure as a way to make the therapy safer and more comfortable for caregivers to administer. Our goal was to show caregivers that air was being safely supplied to a patient. We wanted to alert them of problems concerning adequate respiration flow and make sure the pressure is appropriate in the therapy.

This talk discusses the rapid formation of a company and product in response to COVID19, how it was done cheaply, and how such a complex hardware product could be tested, approved, and brought to patients in under 12 months.



Ted Selker

is an entrepreneur and inventor, currently CTO of Alphyco creating a community based considerate social media for advancing women. Ted spent much of the first year of Covid19 working on the helmet based positive pressure respiration therapy and creating FDA approved PEEP-Alert to monitor it. Ted also is CEO of

 

ultrascanguide.com

 

a tomographic ultrasonic limb imaging company. Ted teaches at various universities and is currently publishing in usable, and considerate technologies. An IBM Fellow, his background also includes teaching at universities, publication and supporting companies working on technologies as varied as solar energy, shirt folding, RFID and Mixed Reality.

Ted Selker is CTO of

 

Alphyco.com

 

creating Reflect a considerate communication support tool. Ted is an entrepreneur inventor who also mentors innovation. Ted's academic positions at RIT and University of Maryland currently focus usable security and voting technology. Ted spent 5 years at at Carnegie Mellon University Silicon Valley as director Research on Accessible voting, Considerate Systems research and in developing the campus's research mission. Prior to that, Ted spent 10 years as an associate Professor at the MIT Media Laboratory where he created the Context Aware Computing group, co-directed the Caltech/MIT Voting Technology Project, and directed the Industrial Design Intelligence future for product design project. Prior to that, his successes at targeted product creation and enhancement at IBM earned him the role of IBM Fellow.

Ted's work has birthed successful products ranging from notebook computers to operating systems. It has accumulated numerous awards, patents, and papers and has often been featured in the press. Ted was co-recipient of the Computer Science Policy Leader Award for Scientific American 50, the American Association for People with Disabilities Thomas Paine Award for his work on voting technology and the Telluride Tech fest award.