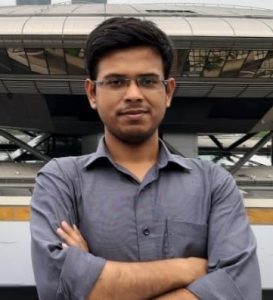 Education
Research Interests
Biomaterials, Drug Delivery, Tissue Engineering and Regenerative medicine, Biomolecules.
Work Experience
Lecturer – Department of BME, Bangladesh University of Engineering and Technology (BUET), 2021-contd.
Research Experience
Undergraduate research student- BioInnovation Research group, Department of Biomedical Engineering, BUET

Non-graduating research assistant, Department of Chemical and Biomedical Engineering, Nanyang Technological University (NTU), Singapore
Publication Search
Publications
TH Aneem, SY Wong, H Afrin, M Nurunnabi, X Li, MT Arafat, Investigation of coagulation process of wet-spun sodium alginate polymannuronate fibers with varied functionality using organic coagulants and cross-linkers, Mater. Today Chem. 22 (2021). doi:10.1016/j.mtchem.2021.100580.
T.H. Aneem, S.K. Saha, R.A. Jahan, S.Y. Wong, X. Li, M.T. Arafat, Effects of organic modifiers and temperature on the synthesis of biomimetic carbonated hydroxyapatite, Ceram. Int. 45 (2019). doi:10.1016/j.ceramint.2019.08.211.
F. Islam, T.H. Aneem, M.U. Jahangir, S.K. Saha, M.T. Arafat, Comparative analysis of thermally sintered and biomimetically precipitated nano-hydroxyapatite, World Biomaterial Congress (WBC) 2020.

S.K. Saha, 

T.H. Aneem

, M.A. Matin, R.A. Jahan, M.T. Arafat, Effects of synthesis temperature on the chemically precipitated nano-hydroxyapatite, AIP Conf. Proc. 2121 (2019). doi:

10.1063/1.5115967

.